Documents Surface from Bill Cosby's 2005 Rape Case Where He Admits Drugging a Woman for Sex
Uncategorized
July 7, 2015,
106 Comments
A court document has surfaced from Bill Cosby's 2005 rape case in which he testifies to using drugs on women with the aim of getting sex.
He admitted giving Quaaludes, a sedative to at least one woman and "other people," according to documents obtained Monday by The Associated Press. He got Quaaludes with the intent of giving young women he wanted to have sex with.
According to AP, they had gone to court to compel the release of the documents and Bill Cosby's lawyers had objected on the grounds that it would embarrass their client.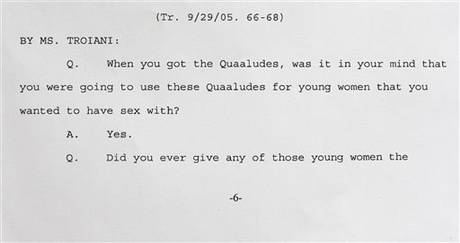 The 77-year-old comedian was testifying under oath in a lawsuit filed by a former Temple University employee. He testified he gave her three half-pills of Benadryl.
According to reports, Bill Cosby settled that sexual-abuse lawsuit for undisclosed terms in 2006.
In the past few months Bill Cosby has been accused by more than two dozen women of sexual misconduct, including allegations by many that he drugged and raped them in incidents dating back more than four decades.
Click here if you missed it.
According to the documents obtained, Bill Cosby was asked by attorney Dolores Troiani: "When you got the quaaludes, was it in your mind that you were going to use these Quaaludes for young women that you wanted to have sex with?"
He answered yes.
The attorney then asked: "Did you ever give any of those young women the Quaaludes without their knowledge?" At that point, Cosby's lawyer objected, stopping his client from answering.
Source: AP