Exclusive: Jidenna opens up on things he's Looking Forward to (Like Jollof Rice!), his infamous AK47 Statement, Collaborating with Tiwa Savage, Marriage Pressure & So Much More
Uncategorized
August 31, 2016,
Comments Off
International music starJidenna is currently in Nigeria as he promotes his debut album "Long Live The Chief". With tons of activities lined up for the Nigerian-American star and fan of BN,BellaNaija will be bringing you quite a number of exclusives from his ongoing trip.
Yesterday we had a chat with him just before the "Enjoy Lagos" event and he talked about his excitement at being back in Nigeria, the things he's looking forward to (yes, Jollof Rice!), Nigerian stars he hopes to collaborate with, the "typical Naija" factor he sees everywhere and so much more.
He also, once again, clears up the air about the AK47 statements he made when talking about his last visit to Nigeria for his father's funeral.
Read his interview below.
How does it feel being back in Nigeria?
I'm excited. When you have a schedule that's not necessarily made by you, sometimes you don't look forward to some things. I mean there's no Sunday for me, there's no day for me to rest but this trip is something I looked forward to. When I was on the plane, it didn't become real until we started descending and I started seeing everything. I feel great!
What are you looking forward to, now that you're back in Nigeria?
First thing I'm looking forward to is some Jollof Rice because I'm hungry right now. This is the first time I've come home that I haven't eaten yet but it's cool because I love you guys. I want to make sure I take care of this business before I get some Star beer and Jollof Rice in my belly, that's the first thing.
Second thing is, I want some "up and down" because I lost some luggage but I'll get it back tomorrow. It's good news for me because I get to make some new clothes; I just have to make sure I link up with some of my favourite tailors out here.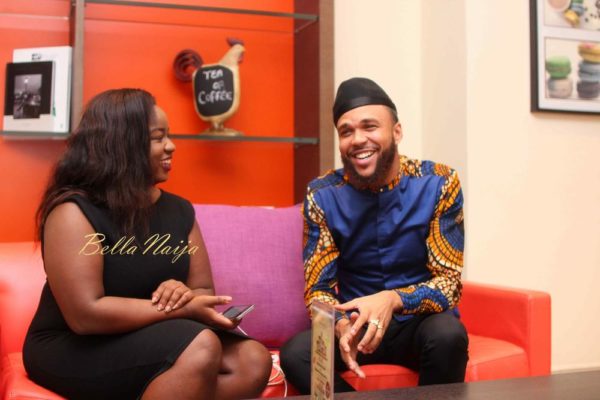 In an interview, you stated that while you lived in Nigeria your father would sometimes shut you in a room until you finished your homework by candlelight. What was the Academic pressure like for you growing up?
He did that a lot! Even more so with my siblings because I'm the baby but basically, he meant, if Nepa goes out, it's no excuse. Do that math, learn whatever you're learning and make sure you get it done. That was his attitude as well as my mum's attitude. When you're done with school work it doesn't mean you're done with work. While I was on the plane, I met a lady with her kids and 1 of her sons was writing something down and it looked like he was doing homework. When I asked if he was doing homework on the plane, she said he went on vacation to Atlanta and his father has said he has to write a journal about the entire vacation. I was like this is typical Naija life! Always seeking Academic excellence even on vacation and that's how I grew up.
Why Stanford University, even though you had admission to other Ivy League Schools?
I was admitted to Harvard and all other Ivy League schools but I turned it down. I picked Stanford because the weather was nice, they have palm trees, it's an engineering school and my dad wanted me to be an engineer but I also knew there was a million-dollar studio which at the time was not typical in schools. I had a secret agenda but my dad was still thinking "he is going to be an engineer". So that's why!
You started off with Sound Engineering at Stanford and then later switched your major to "Ritualistic Arts"…what informed that decision for you?
I originally went to school for an engineering degree but halfway through, I jumped out of the Trojan horse that I was riding and surprised my dad by saying I wanted to be a musician. So what I wanted to study was the art of rituals – Why do people paint their face before performances, why do we brush our teeth, why do we sing/dance and what does it do to our minds and how do you do this on a larger scale. Because every Shaman or Medicine man/woman knows how to hypnotize people and I wanted to understand that on a mass, sociological and physiological level and I think I figured it out.
Your recent performance at the 'One Africa Music Fest' stood out especially with a masquerade on stage. Why did you decide to go that route?
I grew up with 'Mmanwu'. It's a traditional Igbo Masquerade and I always wanted to combine 2 opposites, European and African even in the way I dress, or traditional and modern. I'm always looking at contrasting things and that's why I brought it on. I don't always bring the masquerade on stage but when I do, it's a fun time or scary for others.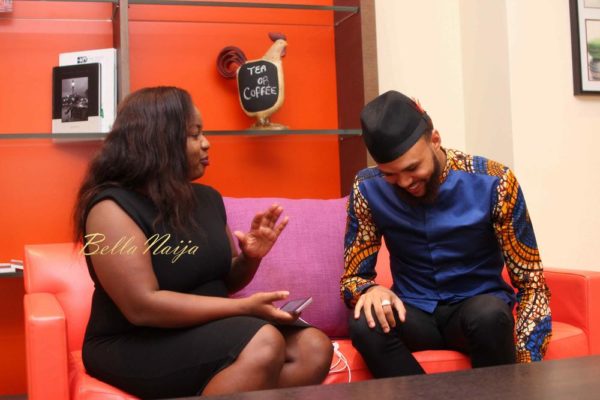 At the MTV VMAs you were with Tiwa Savage, are there any other artists that you're looking to collaborate with?
Tiwa is amazing! I'm definitely looking to collaborate with others too. The people right now that I'm focusing on are the people that are building the same bridge that I'm building but just on different continents. Since I'm based in the States I'm building a bridge back here and to the World, so I'll like to work with Pioneers besides Tiwa Savage, Wizkid, Davido. I'm a big fan of other people, one of them is Burna Boy – That's my guy, he is so funny and I think he is underrated. I like his music, his sound is very distinct and his style is just… amazing. I'm going to link up with him soon!
It looks like you're leaning towards Afrobeats tunes
Yes, very true!
Was that a little bit of Shoki we spied in "Little Bit More" video?
Yes! I know some of the dancers did that too. I just go with whatever I feel. My album will never be just one sound because I don't feel the same every day. I've travelled to so many places and I have to fuse things. I'm always putting at least two things together so I don't think I can ever do like a straight Trap, Afrobeat or Reggae song; it always has to combine elements. So when I link up with other Afrobeats artists, I'll be looking to bring things together that no one has ever heard. I'm like an alchemist.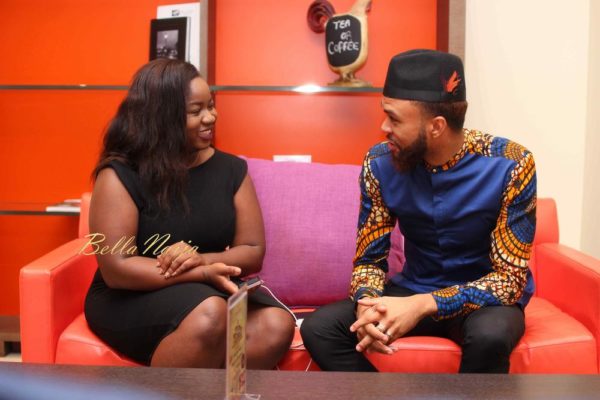 What's your Trace Documentary going to be about?
Everything; my homecoming essentially! Post-classic man, post the success of last year and this year. I think the most important thing is me coming back to Nigeria. Sadly, I won't be able to make it to Abuja on this trip. It's also about me going to where I grew up Enugu, even though I'm from Imo State but Enugu was where my entire perspective was shaped. As`a young child seeing the world, Enugu is where I remember.  I think the documentary will focus on me coming home and enjoying the experiences. Going down memory lane and I'm sure new memories will be created.
You say that you love BellaNaija and BellaNaija Weddings, do you ever face pressure from your mum, sisters and family to settle down and get married quickly?
I appreciate the angles that you take on people, on current events and all. On marriage pressure, I even faced it on the plane. The woman with her sons was like "why are you not married? You are of age and you should be married by now" and I was like, no I'm good, I'm married to my career right now. I never like to take on more than I can handle and marriage and relationships in general, is the work of a gardener and I can't even water my actual plants. If you go to my studio, I'm sure the plants will be dead by now. So how am I going to water love with a woman and children? I'm not there yet but definitely in the future.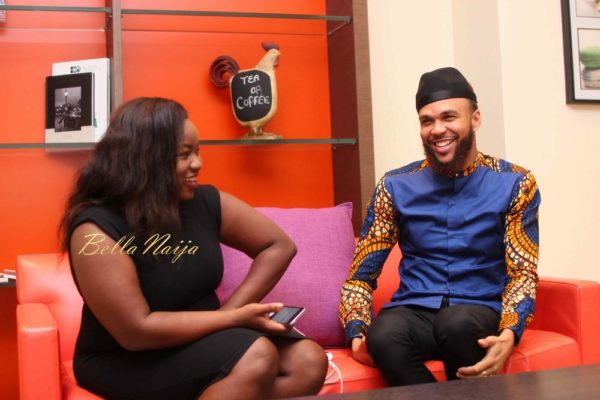 In your letter to Nigerians following the AK47 controversy, you stated that "no matter what language I use to describe my heritage, I'm certain that someone will feel some kind of way", and you got a lot of backlash from Nigerians for the AK47 statement…
I don't regret or take back anything I said at all. The thing is when I'm talking in America, the phrase light-skinned can be used interchangeably with biracial, whereas in Nigeria it's not the same case. To be more accurate, I was able to express some statements on the open letter and on BellaNaija. I'm excited to even address it wherever possible.
What a lot of people don't know and what BellaNaija enabled me to express was that my family had been kidnaped, I was robbed, I was shot , so it's like my dad said, "once you're beaten by a snake, you'll jump when you see a Lizard" So how will I not be like that in whatever country I'm in. It's unfortunate sometimes when portions of what you say get blown up in the media. I think most people are aware now that this is not the only thing I've ever said.  I believe that every country has its' dirty laundry, for example, I care about the US as well but I'm going to talk about police brutality and murders. I will never leave something out because that's what it means to be a patriot. You stare in the face of certain parts of the dirt that you have so that you can clean it up. It's just reality.
Thank you for taking time out to chat with BN!
***
Jidenna will be attending an exclusive homecoming dinner tonight with 50 people, hosted by One Africa in Conjunction with Upfront & Personal.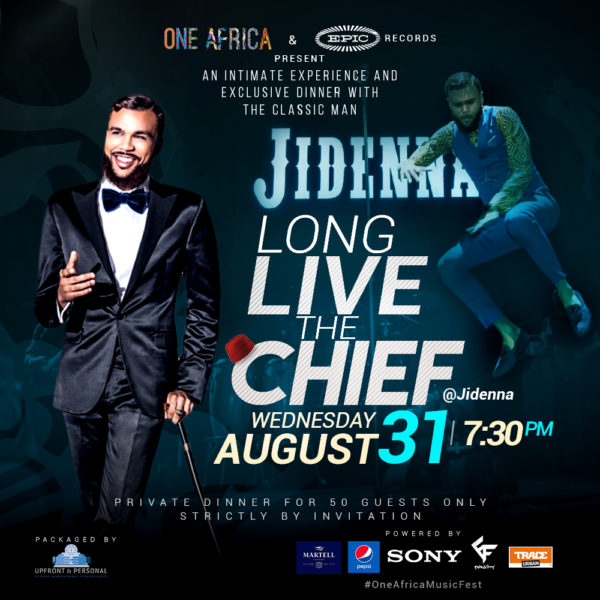 BN will be in attendance to bring you all the fun photos and fun moments so be sure to stay locked on our @bellanaijaonline Instagram page (and InstaStory) for the first photos.
Photo Credit: Kunle Haastrup for Insigna Media
Curbbed from bellanaija.com